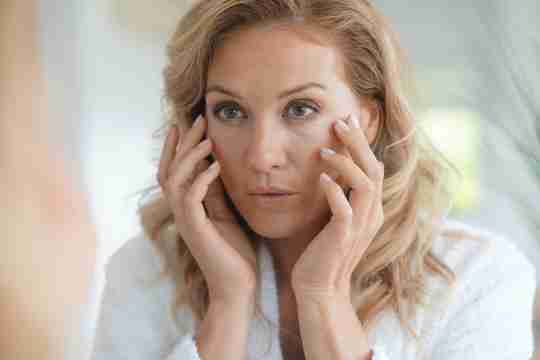 Age & Gravity Wrinkles 
As you age, collagen production decreases, and cells divide more slowly, so the inner layer of your skin thins, becoming prone to a loss of elasticity and damage. Adding the downward pull of gravity to these issues, in addition to fine lines, wrinkles, and creases, you will also notice folds of skin we call gravitational folds. If you're not there yet and can't imagine how these might look, think of the nasolabial fold, created by all those years of smiling, or the marionette lines, appearing from the outer corners of the lips to the outer corners of the chin. 
Unfortunately, unless you are the fortunate owner of a youth fountain, you can't do anything to stop aging or reverse gravity. You can, however, prevent and reduce both folds and wrinkles appearance. 
Slow down the loss of collagen by regularly moisturizing, eating healthy foods, staying hydrated, getting adequate sleep, and always, no matter the season, wearing sunscreen. And don't forget to add high-quality products that prevent and treat wrinkles to your beauty routine. Your best choices are skin products rich in DNA-repairing enzymes, antioxidants, and peptides, as well as smoothing face patches or neck and chest pads.